Proposed Venues Combinations & Seating Capacity
VENUES COMBINATION FOR OUTDOOR EVENTS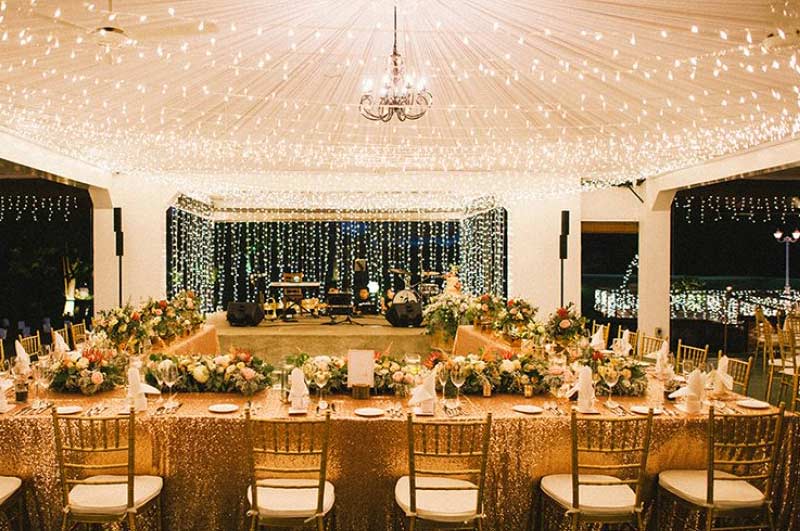 Canopy – 300pax. Size 130 x 30 ft
The canopy can accommodate a maximum of 30 round banquet tables (10pax per table) and it comes with a covered stage (18'x15' ft) equipped with 60 Amp 3-phase isolator.
Glass House – 80pax theatre style. Size 28 x 30 x H10 ft
The air-conditioned glass house is suitable for theatre style R.O.M ceremonies and any other type of smaller events.
Main Bar Area. Size 30 x 45 ft (including bar counter)
The indoor main bar area with the adjacent open rooms can be used as pre dinner cocktail area for outdoor events. Connected to the canopy by a covered walkway.
VENUES COMBINATION FOR INDOOR EVENTS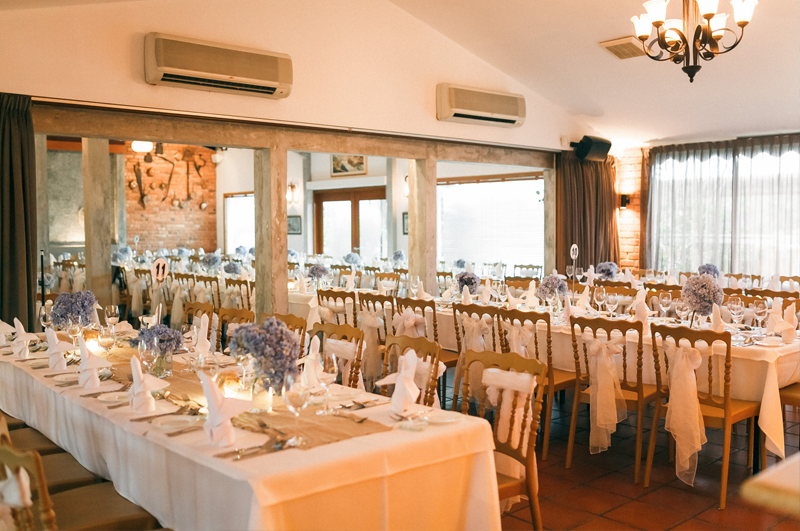 Main dining room– 90pax (or 60pax with buffet). Size 29 x 34 ft
Overlooking the golf course, this is the biggest room of the restaurant and can be connected to the lounge bar for pre-dinner cocktail area. Equipped with ceiling mounted projector and PA system.
Lounge bar – 40pax. Size 40 x 25 ft
With a spacious bar counter and adjacent to the main dining room, can be utilized as the pre-dinner cocktail area or converted into an extra dining space (toilets and powder room available).

VIP Room –20pax. Size 11 x 34 ft
With private entrance and full glass panel windows, can be converted as the buffet area for events at the main dining room.
If your heart is set on an outdoor event, there are few factors that need to be considered. Glance through the FAQs below to find out the attention provided in our establishment.
Food and Beverages
Our set and buffet menus comprise of a well-balanced selection of Italian dishes. Beverages will be arranged according to your requirements.
Decoration
The charming interiors and outdoor greenery provide a lovely backdrop for any setting. As decorations are subjective to personal taste, own vendors are welcome at no charges.
AV system
Basic PA system and background music is provided. For a more elaborate set up, own vendors are welcome at no charges.
Weather
Rain: Motorized roller blinds are fitted at the canopy. The indoors and outdoors are connected by covered pathways.
Heat: Ceiling fans are provided at the canopy. Portable air coolers can be provided (chargeable)
Parking
Capacity of 60 cars approx. Complimentary valet parking is available subject to the scale of the event.
Mosquitoes
Pest control and fogging are done on regular basis.
Powder Room
Basic air-conditioned powder room available.
Washrooms
A total of 6 washrooms (including an accessible toilet) are located indoors. 2 additional washrooms for vendors are available outdoors.